A CHARMING TURN-OF-THE-CENTURY VACATION HOME IN THE HEART OF HISTORIC DOWNTOWN GRAND JUNCTION, COLORADO
---
BOOK THE WHOLE HOUSE...
Whether you're traveling with friends, planning a business retreat, or getting ready to host a family reunion, the Historic Rood House offers plenty of space for everybody.
Or Just a Room!
Find the right space, whether it be in our largest Monument Room, or the cozy Grand Mesa Room. You're sure to find exactly what you need when you stay with us.
---
What do our other guests think?
---
Read our reviews
---
---
Stay with us...
---
Our home is your home!
Walk or ride anywhere
Planted right at the edge of historic downtown Grand Junction, the Rood House offers easy access to all the amenities of the Grand Valley, from the walkable areas of downtown Grand Junction, just a block from the house; to the mesas and canyons of the Colorado National Monument, a 10 minute drive away; to any of the 27 vineyards and wineries that make the valley the heart of Colorado wine country.
all the comforts of home
Every stay with us allows you access to common areas like the kitchen, living room, and the backyard with covered patio. We have all the amenities you need to make your trip a resounding success!
minutes away from the mountains
It's impossible not to marvel at the wonder that waits just outside your door when you stay with us. Whether it's the world famous Colorado National Monument or the vast Grand Mesa, the natural splendor of Colorado lays right at your doorstep.
---
Find a space to fit your needs
---
we have enough room for everyone!
We currently have 6 rooms that are possible for guests to stay in, or you can rent the whole house for up to 14 guests. We encourage you to read the information we have provided on each room before making a decision on where you would like to stay.Each of our rooms has its own unique qualities and, whatever you decide, we are sure you will enjoy your stay! All of our rooms are equipped with fire extinguishers and are fitted with smoke & carbon monoxide detectors.We use Airbnb to take payment and manage communications for all our bookings. If you don't have an account with Airbnb, you will be prompted to create an account during booking.
book the entire house!
14 guests·6 queen beds·2 pull-out beds
Perfect for family reunions, business retreats, traveling performance artists and athletic groups — our vacation home rental option allows you to reserve the entire home for your group.
we've got the room for you!
---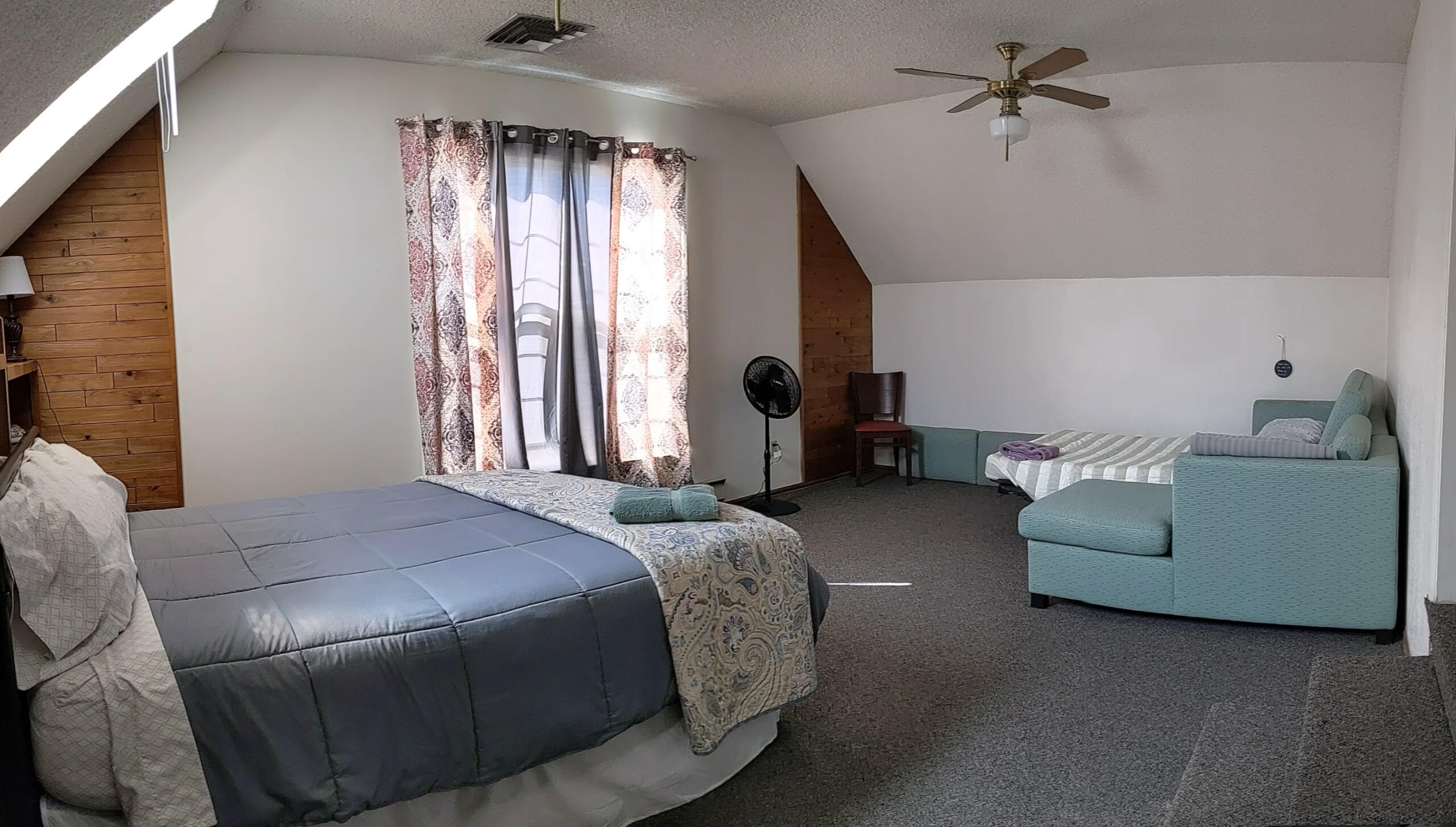 Monument Room
4 guests · 1 queen bed · 1 pull- out
Well lit and spacious with gorgeous sloped ceilings, a large picture window and two skylights, the Monument Room comfortably sleeps four with a queen size bed and a pull-out sofa. The perfect suite for a family or a group!
Grand Mesa Room
2 guests · 1 queen bed
The Grand Mesa Room, the prime barrister's office when the Rood House was used as a law firm, features arresting bay windows that create a comfortable reading area for guests. With one queen size bed, this room is great for a couple looking for a unique and cozy stay.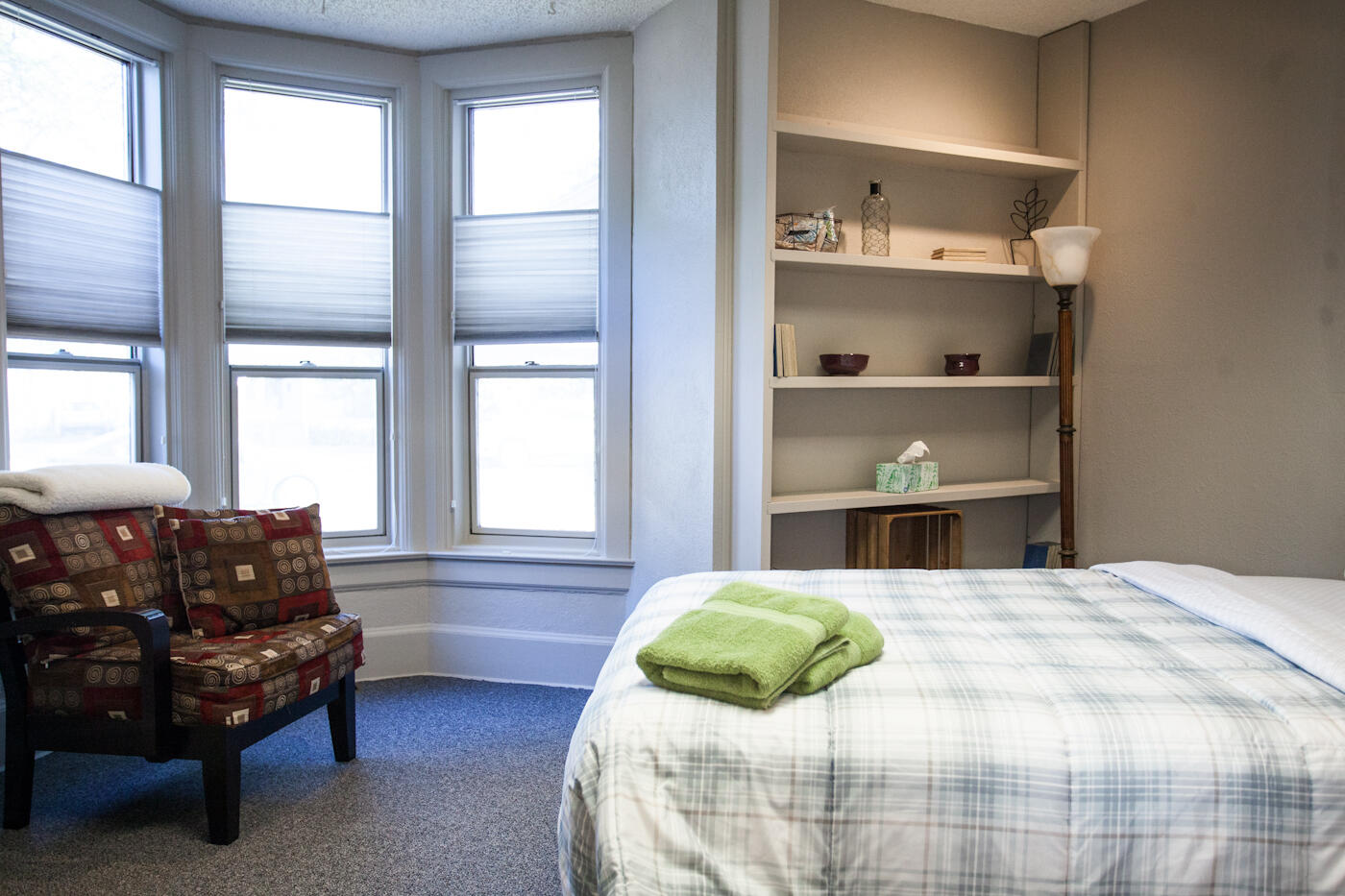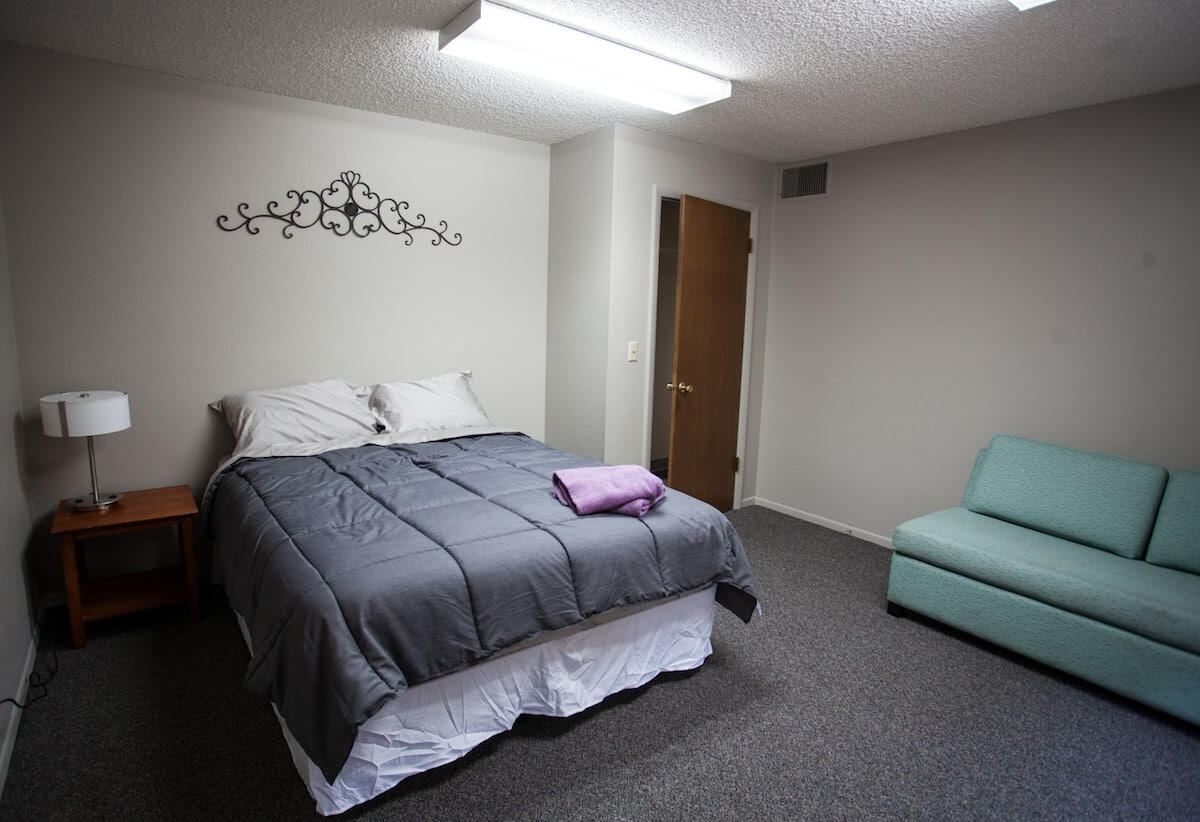 Colorado River Room
4 guests · 1 queen bed · 1 pull-out bed
The Colorado River Room offers a pleasant stay with a view of the backyard and a queen bed and sleeper sofa that fits up to four guests. A great choice for families!
Gunnison River room
2 guests · 1 queen bed · work-desk
The Gunnison River Room is large and airy, easily fitting a queen size bed and chez longue that provide both a comfortable place to sleep and a pleasant area to relax during the day.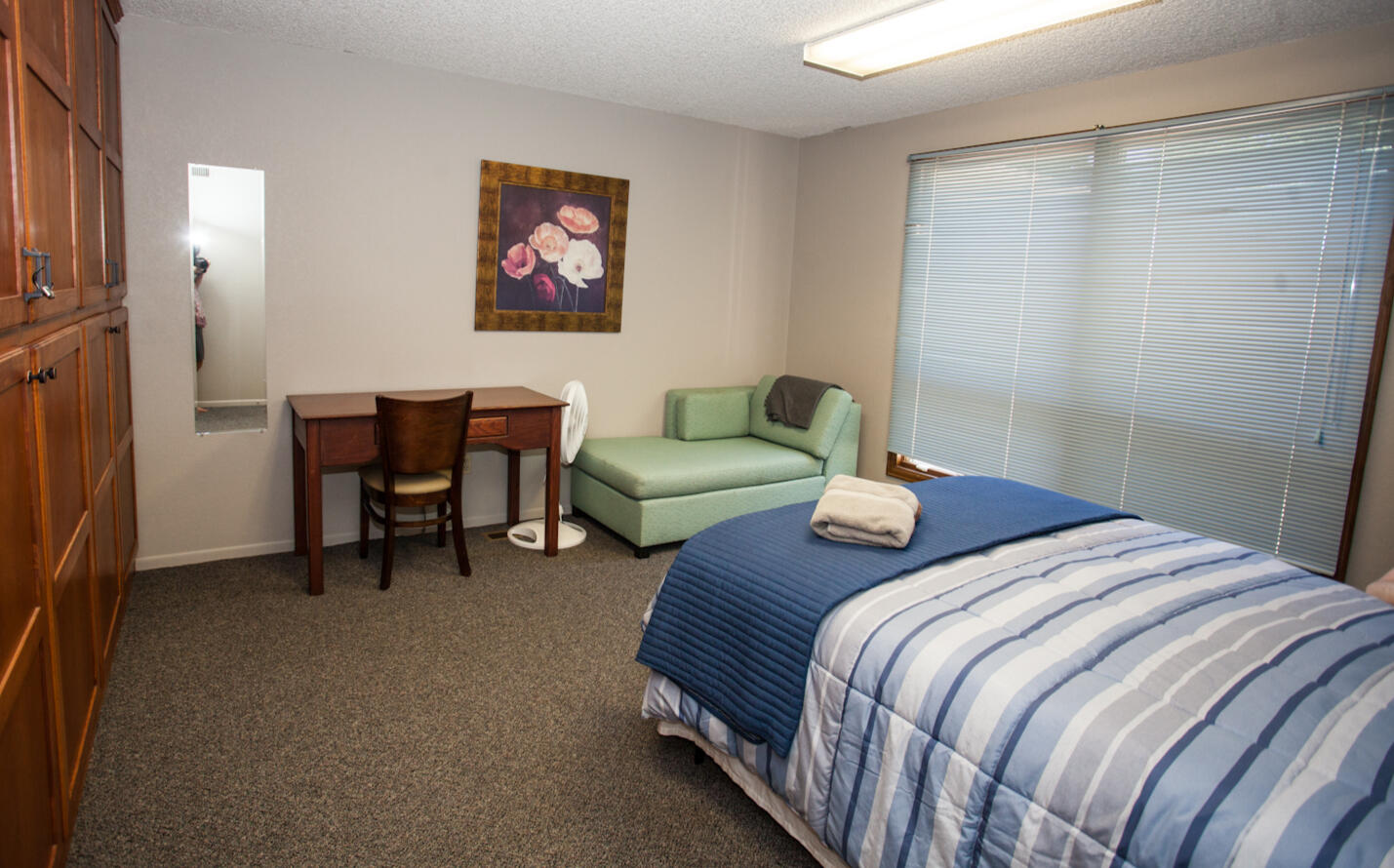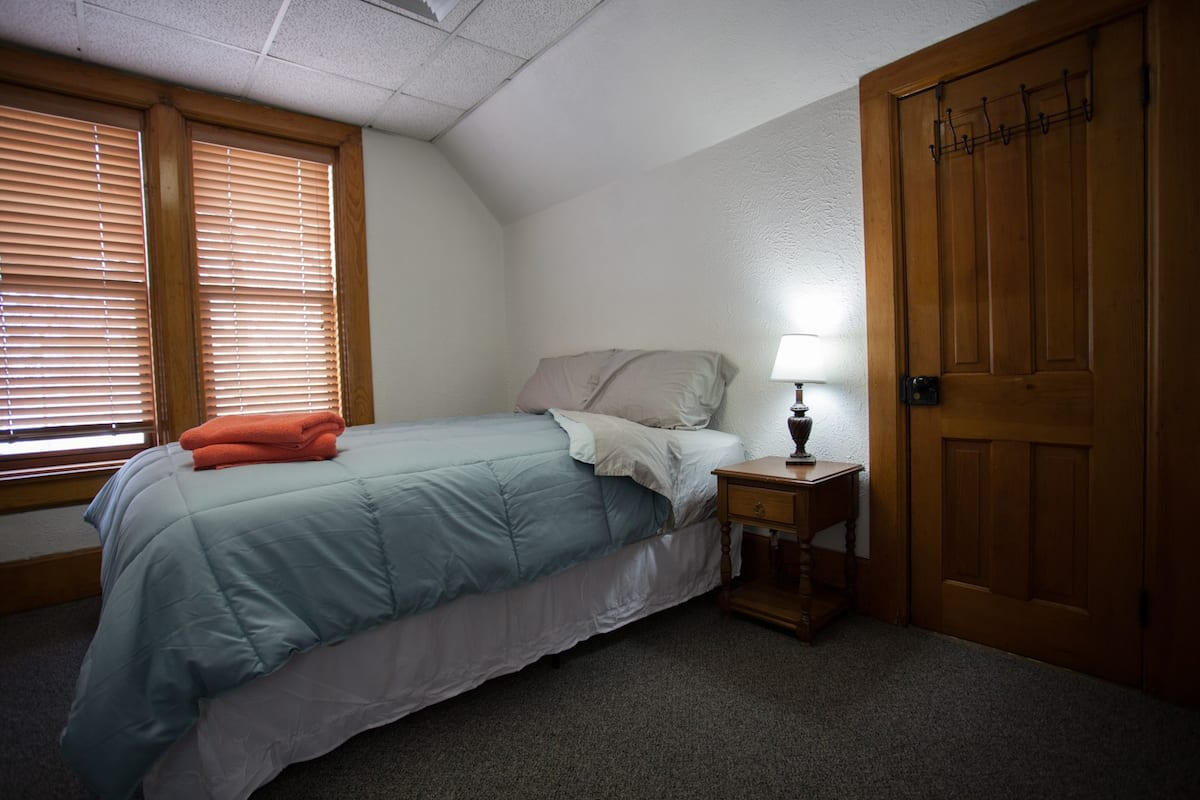 Escalante Room
2 guests · 1 queen bed
The Escalante room overlooks the street and features comfortable seating and a queen bed. Perfect for meeting friends or enjoying some R&R between trips around the valley.
Dominguez Room
2 guests · 1 queen bed
Featuring sloped ceilings and a view of the backyard, the Dominguez room offers a serene stay with a single queen bed, perfect for travelers who want time to themselves.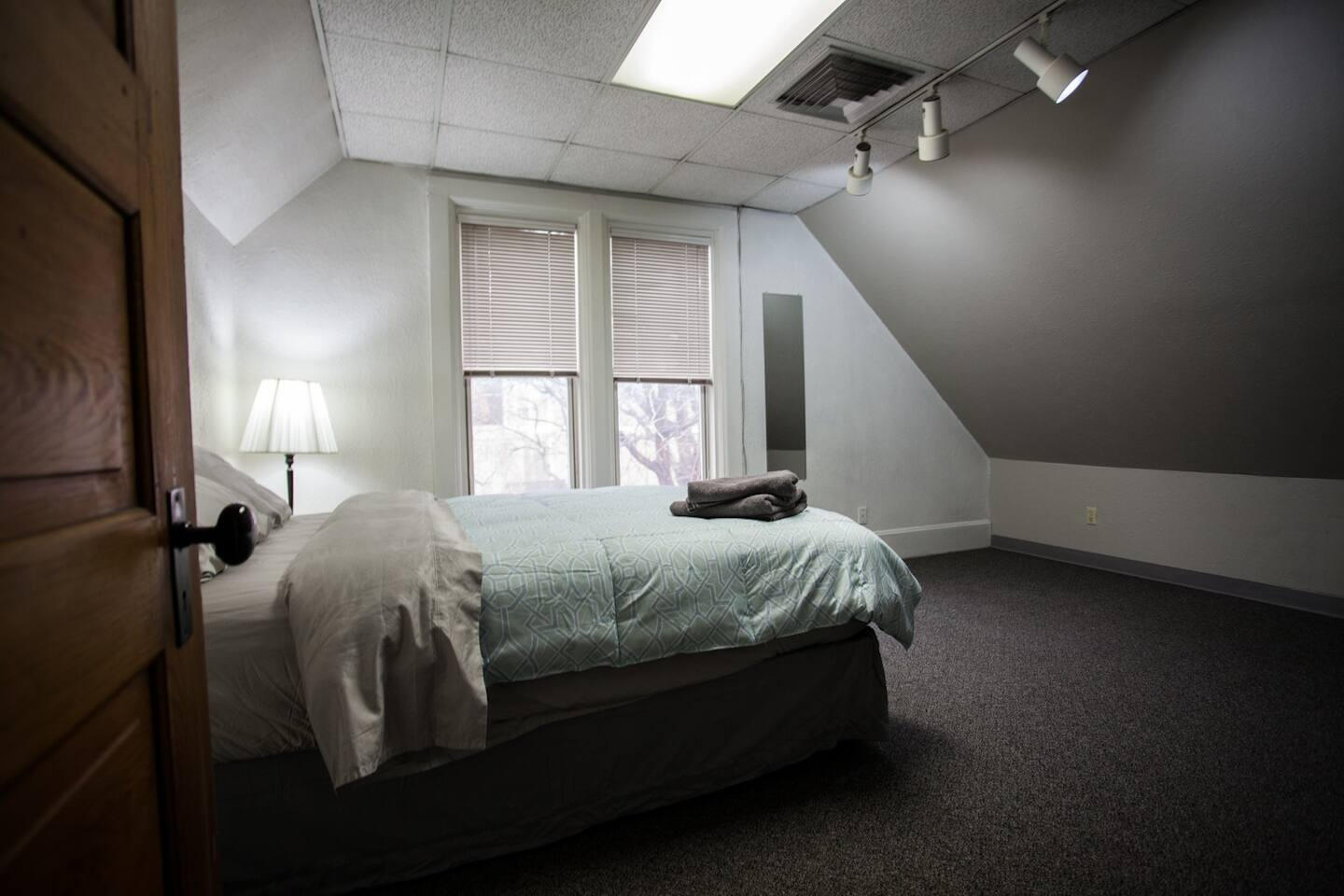 The location
---
Book a Room to Fit Your Needs
Nestled in the heart of Colorado's fabled wine country, Rood House is just minutes away from some of the best restaurants, orchards and biking anywhere in Colorado. Set off to hike the Colorado National Monument, taste the best wines on the Western Slope in Palisade, or bike the Riverfront Trail System along the river or up into the mountains — or do all of them in a day if you're feeling really adventurous!
Visit Nearby Communities
A town built on agriculture from the outset, Palisade has delivered on its promise to early residents and now offers not just wine, but delicious local peaches and some of the best food anywhere in Colorado, without any of the hassle of the big city.
A quiet farming town turned world famous mountain biking community, Fruita is a quick drive. With art galleries and daring restaurant options, Fruita is a must-visit for any Grand Valley tourist.
TAME THE WILDS
Find unique and stunning views in any direction around Grand Junction, from the red sandstone of the Colorado National Monument, to the world-record-breaking Grand Mesa and everywhere in between.
All with less than an hour drive away you'll have access to thrilling river-rafting and kayaking, incredible hikes, world-class mountain biking, skiing, and much more. For an outdoor enthusiast, Grand Junction is practically a slice of heaven on earth.